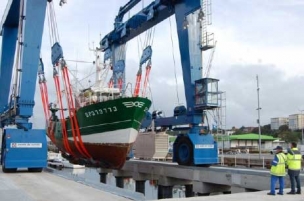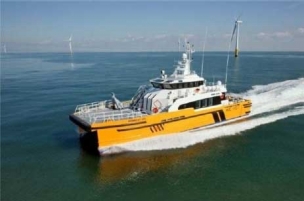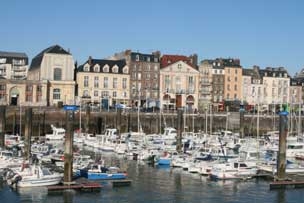 Editorial by François Landais, President of DIEPPE-NAVALS
I am very pleased to welcome you to the DIEPPE-NAVALS website.
We should firstly acknowledge that at the origin of our association are the very large investments made by the Syndicat Mixte, the Dieppe joint harbour association to boost its four activities (Commerce, Fishing, Leisure boating and the Cross-Channel service); this really changed the economics of the situation.
I would particularly mention the introduction in Dieppe of a 400 tonne capacity boat lift, and the ongoing creation of a dry dock: the only one of its kind in France, which led us, professionals of the maritime sector, with the help of the intercommunity council for the Dieppe Region, to think about how we could structure our own offer around these major facilities.
As professionals, we came up with the idea of consolidating, of forming an association, and our cluster of companies was officially launched at a constituent general meeting on 15 June, 2011. We decided to federate together to promote the real expertise we have in many areas of activity, so as to structure our offer and make it complementary.
DIEPPE NAVALS is also a way of preparing for the future. These days the traffic in the commercial harbour leads us to wonder about future markets and obliges us to be ready for vessels associated with offshore wind farms, and also river transport,  thinking of course of the Seine-Nord Canal.
I would like to mention all the active members of DIEPPE-NAVALS:
Active members:
ACF MECANIQUE
ACOR CLEAN
AFI
ALBATRE YACHTING
CEGELEC SDEM
COOPERATIVE DE LAMANAGE DES PORTS DE ROUEN ET DE DIEPPE
DFDS SEAWAYS
DIEPPE MATERIEL DE PECHE
EIFFAGE TRAVAUX MARITIMES ET FLUVIAUX
FARRUGIA-PEINTURE-INDUSTRIELLE NAVALE
GALVACAUX /PRESTIA
G-TEC
GUIAN SA
HUMANN & TACONET
HYDRAUTECH
JOHNSON CONTROLS INDUSTRIES
MANCHE INDUSTRIE MARINE (MIM)
MENUISERIE GODARD GREGORY
MENUISERIE HENRY
NAUTISUB DIEPPE
NAVIGATION NORMANDE
NORMANDIE MARITIME
PAUMIER MARINE
PILOTAGE DE LA SEINE ROUEN CAEN DIEPPE
PROMARITIME INTERNATIONAL
R-SERVICES
SINAY
SNC GRAVES DE MER
STO LOGISTIQUE
TD CONSULT
THOMAS SERVICES MARITIMES (TSM)
Together we cover a wide range of maritime activities:
Chandlery / Fishing and boating gear / Boat sales and hire,
Ship reception and towing / Ship refuelling / Freight and personal transport,
Ship owner,
Shipyards / Shipbuilding and repairs,
Naval and general boilermaking / Forge / Pipework / Machining,
Electricity,
Marine electronics and IT,
Analysis / Advice / Expert assessments,
Operation of sand and gravel pits; extraction of clays and kaolin,
Manufacture of wind turbine blades,
Naval carpentry,
Training,
Hydraulics,
Marine engineering,
Engines and propulsion,
Port handling and logistics,
Painting,
Marine works,
Sailing.
I would like to emphasise that DIEPPE NAVALS is a young organisation and we are eager to receive more members. All maritime professionals are welcome.
I would also like to thank DEEP CONSULT, LA COMPAGNIE DU VENT and WPD OFFSHORE FRANCE, who are sustaining members.
Greetings to our institutional partners, who are honorary members:
Syndicat Mixte du Port de Dieppe (joint harbour association),
Dieppe Maritime intercommunity council,
Dieppe Chamber of Commerce and Industry,
Upper Normandy marine fisheries and aquaculture committee,
Anita Conti marine high school,
The Dieppe local job centre and training centre.
To conclude, I would like to say that I am convinced that the Port of Dieppe is writing a new chapter in its history and that with DIEPPE-NAVALS, working together, we will be the main players.
François LANDAIS 

President of DIEPPE-NAVALS